The GOES-R Program is committed to ensuring that the user community is prepared for the new types of satellite imagery and data that will be available from the GOES-R satellite. The intended outcomes of the user readiness plan are day one readiness, maximum utilization of GOES-R products, and an effective transition to operations. GOES-R is engaging users early in the process through Proving Ground and NOAA Test Bed activities, simulated data sets, scientific and user conferences, and other communication and outreach efforts.

The diversity of the GOES-R user community is reflected in the wide variety and applications of GOES-R data and products. Larger, institutional users can exploit the increases in spectral, temporal, and spatial resolution and assimilate radiances for use in prediction models, increasing the timeliness and accuracy of forecast products. GOES-R data will be used in real time for critical life and property forecasting and warning applications primarily by the National Weather Service, where these users will be able to monitor the rapid development and interaction of severe storms. Other smaller public and private sector users will be able to obtain GOES-R data through their own Earth stations, or through terrestrial network distribution.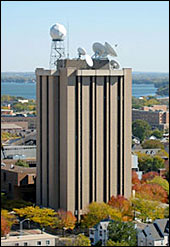 Cooperative Institute for Meteorological Satellite Studies, University of Wisconsin, Madison

Academic Community



The academic community is also an important user of GOES-R data, for informational, educational, and research purposes. Some specific academic institutions collaborate with NOAA/NESDIS sponsored research entities and are engaged in the development and creation of derived GOES-R satellite products.