Proving Ground:

Partners

The Proving Ground brings together NOAA and its partners to bridge the gap between research and operations and provide a rich source of information contributing to user education and training on GOES-R series applications through:
Utilizing current systems (satellite, terrestrial, or model/synthetic) to emulate various aspects of future GOES-R series capabilities.
Infusing GOES-R series products and techniques into the NWS operational environment, with emphasis on the Advanced Weather Information Processing System (AWIPS) and transitioning from AWIPS-I ("AWIPS Legacy") to AWIPS-II ("AWIPS Migration")
Engaging in a two-way dialogue to provide feedback to the developers from the users.
For more information about products being tested in the Proving Ground, please visit the Proving Ground Products website.
Formal GOES-R Proving Ground Partners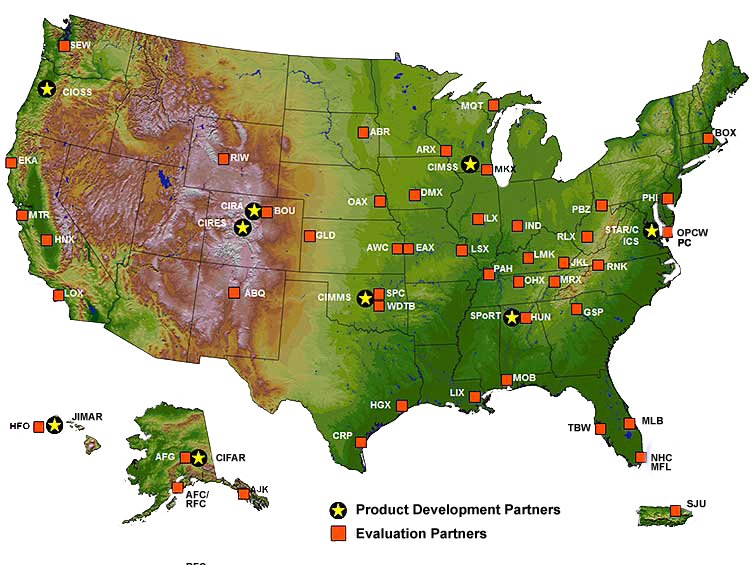 May 9, 2014
The following map illustrates the Formal GOES-R Proving Ground Partners including Product Development Partners (denoted by a star,
) and Evaluation Partners (denoted by a square,
). The Formal Partners map has been updated with new criteria:
Formal Product Development Partners are GOES-R supported algorithm developers. A location is considered a Formal Evaluation Partner if:
The office is included in a GOES-R Proving Ground Demonstration Plan, or
The office has a current signed GOES-R Proving Ground WFO Evaluation Partner and Provider Agreement through the GOES-R Point of Contact for the evaluation (usually a Satellite Liaison) and the GOES-R Proving Ground Coordinator.
The map will be updated quarterly (March, June, September and December) if necessary to reflect the latest partner agreements.