Products:

Sample Data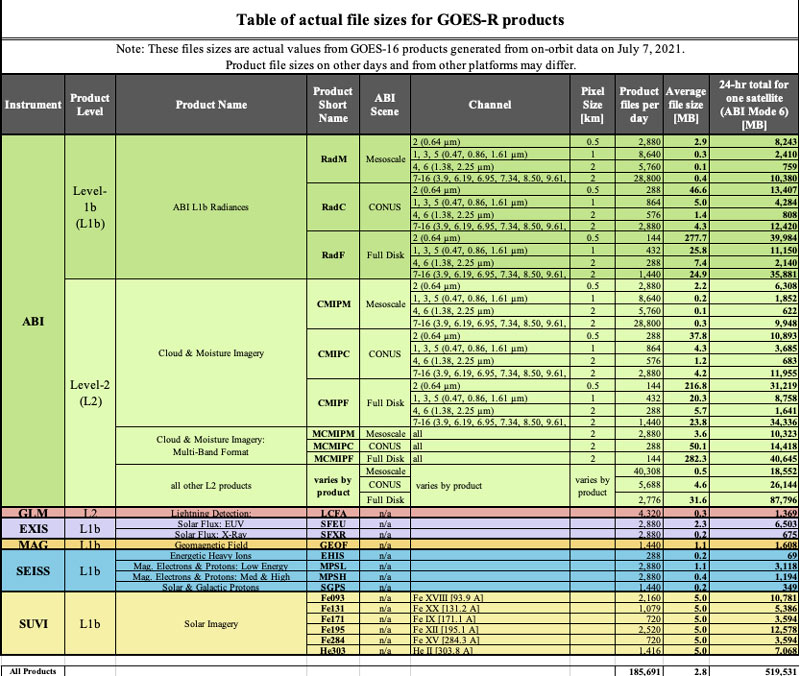 Table of estimated file sizes for GOES-R Products
Note: These estimates are based on synthetic, pre-launch test data. Product file sizes containing on-orbit data my differ. This table will be uploaded to reflect on-orbit data volumes following the post-launch checkout phase.

Download an EXCEL version of this table.



View full screen version of this image.
General Sample Data Information
The GOES-R Series Program will make available sample datasets that represent initial products generated from the GOES-R ground system during integration and test of product algorithms. These datasets are intended to give GOES-R users a first look at sample data. This data is provided for reference only and should not be considered final.
All datasets are available in NetCDF format.
For questions regarding this sample data, please contact the NESDIS Satellite Products and Services Division.
The data herein is test data only, and the Government is furnishing the data in an "as-is" condition. The user bears all responsibility for inspecting such data prior to use, and for the manner in which it utilizes the data. The Government makes no warranty of any kind with respect to this data.
Simulated GOES-18 Data
GOES-16 and GOES-17 Operational Data
GOES-16 (GOES East) and GOES-17 (GOES West) operational data can be accessed through NOAA's Comprehensive Large Array-data Stewardship System (CLASS) and via the Cloud through NOAA's Big Data Program.